Authentic Naples-style pizza at V Pizza  in Lake Buena Vista
Do you think that a pizzeria can no longer surprise you? That's because you don't know V Pizza yet.
If we can find a slice of Neapolitan cuisine in Orlando, it's in part thanks to this terrific new pizzeria. Here at V Pizza, the pizzas, baked in a stone oven, are one of the star dishes of this restaurant, located in the middle of Lake Buena Vista.
As soon as we entered V Pizza, the charming interior perfectly complemented the alluring aroma of freshly baked pizza wafting from the kitchen. With our mouths already watering, we had no doubt that we were in for a treat. And we were right.
A little about V Pizza & Tap Room
Since its modest beginnings in 2014, V Pizza has won over 100 awards from renowned tastemakers in the food industry.
V Pizza's menu includes classics and creative pizza options, with the star of the show being their Authentic Naples-style pizza.
We met Trent Postell, othe happy owner of this lovely pizzeria. His warm smile and well-known love of good food draw us in right away. He spoke about the story of V Pizza, which is very interesting. About how the idea of V Pizza came to be and how committed he is to bringing real Neapolitan-style pizza to our ol' Lake Buena Vista hood.
What makes the pizza here so special?
V pizzas have the best and most flavorful ingredients. Then, they are expertly given the kiss of perfection in their wood-fired 900° ovens, turning them into culinary masterpieces in just 90 seconds.
Pizza Napoletana originates in Naples, Italy, and is popular for its simplicity and quality ingredients. Therefore, at V Pizza, the dough is made from imported Italian "00" flour, giving the pizza a light and airy texture. And when it comes to the sauce, nothing but the best San Marzano tomatoes for the sauce, providing a rich and flavorful base.
In Crust, we Trust
Italians divide flour into groups based on how finely it has been ground. For example, "1" flour is wheat flour with bigger grains and a rougher feel, while "00" flour is a much finer powder.  Indeed, the house-made dough, crafted from imported Italian "00" flour, gives the pizza a divine texture.
Why is this pizza the best?
Authentic Neapolitan pizza needs four main ingredients: tomatoes from the San Marzano, buffalo mozzarella, 00 wheat flour, original yeast, and a combination of salt. Indeed, the ingredients make up one of the best-tasting dishes you'll ever taste: authentic Neapolitan pizza.
Furthermore, the toppings are a testament to the creativity and flavors at V Pizza, with shredded mozzarella, sliced Sopressata, V-marinated chicken, and Pancetta.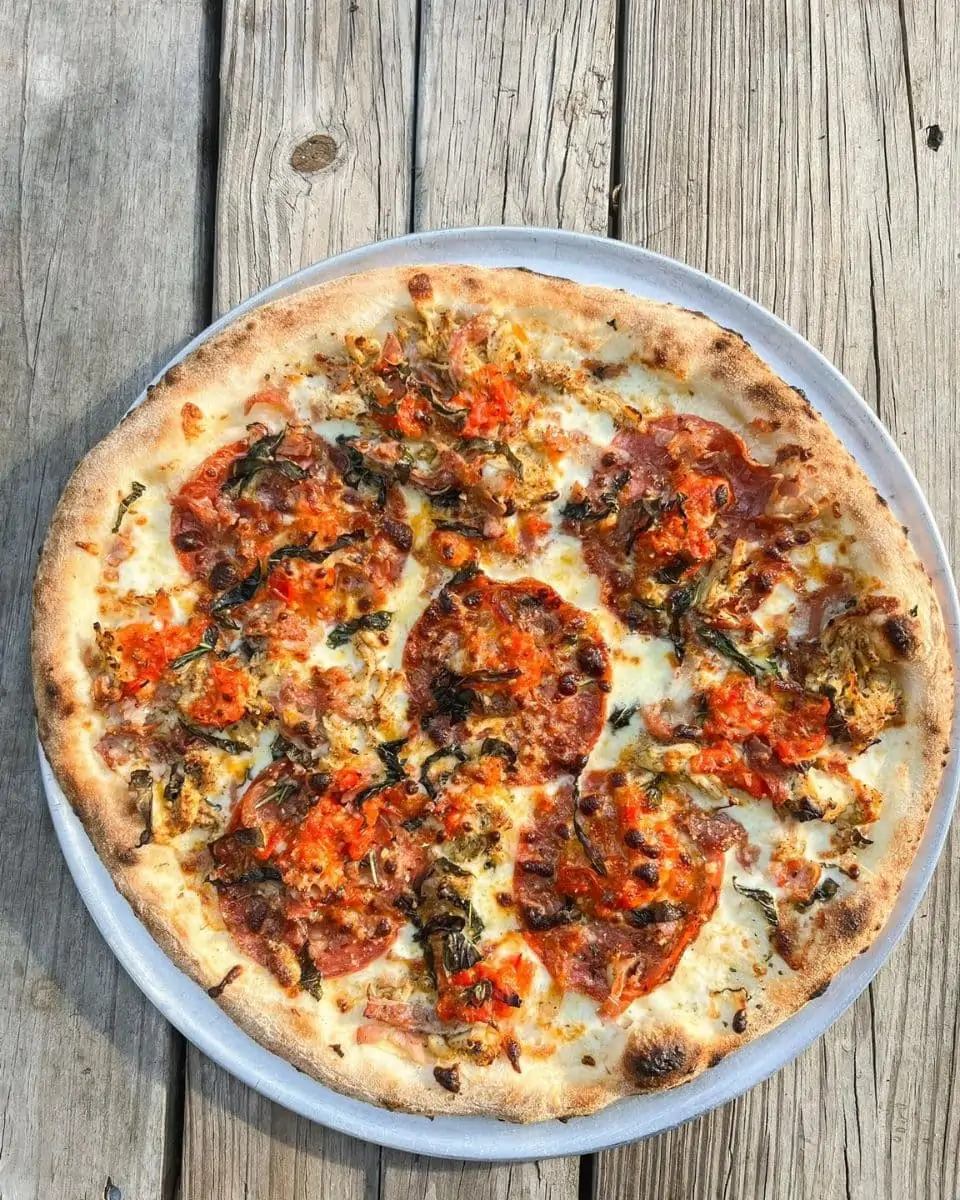 What are the Pizza sizes at V Pizza?
V Pizza offers lunch-size pizzas in sizes 10″ or 13″ and dinner-size pizzas in sizes 13″. To experience true authentic flavor, enjoy the pizza as soon as it is served, right out of the oven. When it comes to the price, you won't believe how reasonable it is considering the quality of the food they provide.
No pizza stone?
No worries; you can purchase pizza stones for just $20, allowing you to recreate the same V Pizza flavor at home.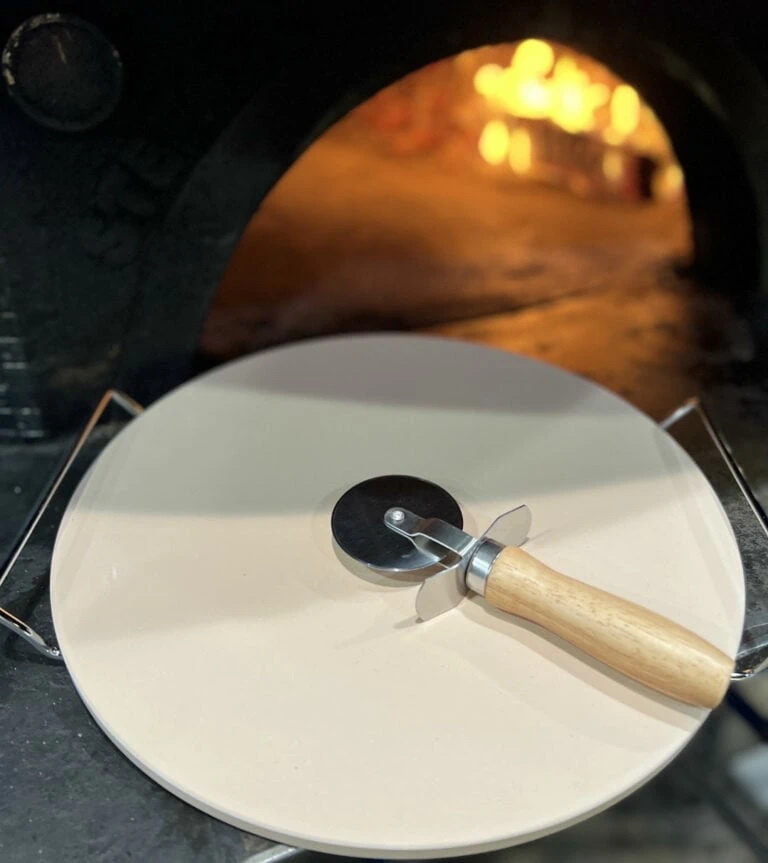 About the Menu at V Pizza
This pizza joint offers an impressive array of menu items, including classic pizzas but also offers much more. One of their standout offerings are their delicious wings. You can choose between flavors like V Signature or Calabrian wings. Served hot and crispy, they're the perfect finger food to accompany your meal.
If you're looking for something on the healthier side, V Pizza has a range of salads on offer. The classic Insalata Pizza is a popular choice with Arugula, burrata cheese, grape tomatoes, Parmigiano Reggiano, and a hint of lemon, served on a fresh baked pizza dough that is equally mouth-watering. The portions are generous, making these salads perfect for sharing with a friend or two.
For those who love to nibble on something while enjoying a good conversation, V Pizza offers several shareable appetizers. The popular ones are Metaballs San Marzano and Sausage San Marzano.
Now, let's move onto the pasta options. One of the best things about V Pizza is that they offer fresh, homemade pasta. You can choose from Pasta Puttanesca or baked cavatappi, among other delicious options. So why not give V Pizza's pasta a try?
And last but certainly not least, let's talk about the pièce de résistance of V Pizza: their homemade gelat. They offer a variety of flavors that are both decadent and refreshing.
Overall, V Pizza offers something for everyone. Whether you're craving pizza, wings, salads, pasta, or dessert, their menu has got you covered. So why not pay them a visit? Your taste buds will thank you.
The Tap Room
In detail, V Pizza & Tap Room offers a unique twist with a vast selection of craft beers to complement their mouthwatering pizzas. With a wide range of flavors and styles, from hoppy IPAs to rich stouts, there is a perfect beer to pair with every pizza.
The combination of expertly crafted pizzas and the vast selection of craft beers creates a harmonious balance of flavors that will leave you craving for more.
Check out the 3D virtual tour.
Immerse yourself in the restaurant from the comfort of your own home and get a firsthand look at the ambiance, seating, and ovens.
 V is for victory.
One of my favorite parts of our conversation with Trent was that V Pizza & Tap Room is not just a place for incredible pizza and craft beer; it is also a business that deeply cares about supporting their local community.
As a compassionate and socially responsible person, I believe we must improve the world. Cancer-stricken youngsters are a cause I care about. The hardship these tiny warriors undergo daily is incomprehensible, and I think we should do anything we can to make them smile.
They have partnered with V for Victory, a 501(c)3 non-profit organization based in Jacksonville, Florida. Their mission: to provide resources and services to local families and individuals in treatment for cancer.
Your donation, no matter how small, can help a child with cancer. Help them smile by donating to V is for Victory. Visit their website, learn about their programs, and donate. Remember that your donation can make a youngster in need smile and remind them that there is hope even in the darkest times.
Let's help these kids fight by spreading love, generosity, and happiness. Let's show them that they have a community supporting them. Make a difference in their lives and help V is for Victory do great things.
Where is V Pizza Located?
About their location: Lake Buena Vista at 8586 Palm Parkway, Orlando, FL 32836
They are open seven days a week to satisfy pizza cravings, with Sundays through Tuesdays from 11 a.m. to 10 p.m. and Wednesdays from 10 p.m. to 10 p.m.
For late-night bites, V Pizza & Tap Room is open from 12 a.m. on Thursdays and 1 a.m. on Fridays and Saturdays.